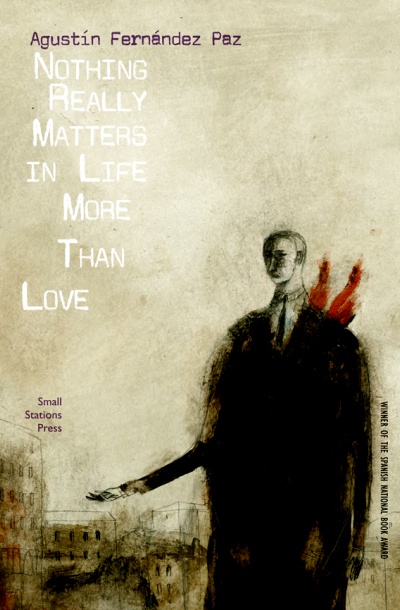 ISBN: 978-954-384-086-1
NOTHING REALLY MATTERS IN LIFE MORE THAN LOVE
by
Fernández Paz, Agustín
The ten stories in this magnificent collection "all talk of the importance of love, that feeling that can transform us more deeply than any other, and also of its absence, the void it leaves in people when the twists and turns of life make it impossible." So the author, Agustín Fernández Paz, writes in his afterword. A banker who, bored of the company of other directors, frequents a bookshop and is introduced to works she has never read before; a young man who falls in love with the daughter of the owner of the garage where he works; a man and a dog who continue to seek out the company of the Woman he loved; a couple who endure a freak accident, but only one survives; a woman who recalls her first, anxious physical contact with her boyfriend; a man who is proud of his collection of matchboxes; another who finds passport photos of the woman of his dreams on the pavement; the country house and its long-kept secrets; a woman whose life could have been so different had she followed the inclinations of her heart; and the man who comes up with the ingenious idea of advertising not services, but the openings of books that have transformed his life. There is in this work an analysis of the power of love over our lives, love that is requited and love that is left behind. There is also, as the author points out, a celebration of the positive impact that reading can have in our lives, and Fernández Paz very deliberately sets out to provide pointers to some of his favourite creators: Auster, Kafka, Pamuk and Rivas, Éluard, Neruda, Valcárcel and Valente, Hicks, Kar-wai and Wenders… Readers will be able not only to sink into the charming prose of one of Galicia's most famous writers, but also to equip themselves with a to-do list of other authors. Nothing Really Matters in Life More Than Love received the 2008 Spanish National Book Award and is beautifully illustrated in colour by Pablo Auladell.
Publication Date: 11 July 2018 / Language: English / Paperback: 154 pages (contains 15 colour and 10 black-and-white illustrations) / Dimensions: 229 x 152 mm / Price: £10.99 / €14.99 / $16.99
Amazon.com / Amazon.co.uk / Amazon.es / Barnes & Noble / Book Depository
To call this book utterly wonderful would be a most profound understatement.