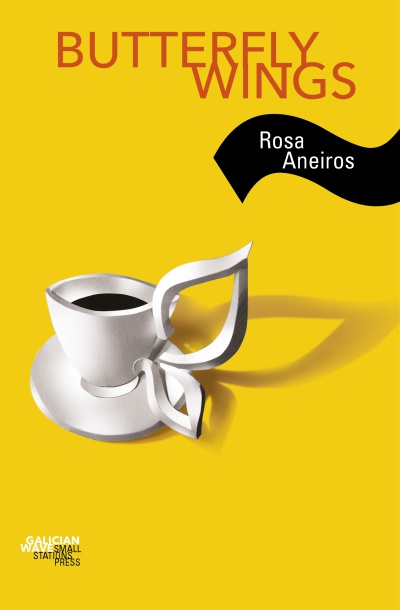 ISBN: 978-954-384-108-0
BUTTERFLY WINGS
by
Aneiros, Rosa
The Luzada, meaning 'shaft of light', is a café on the edge of the historical quarter in Santiago de Compostela, the capital of Galicia, a city that attracts pilgrims from all over the world. The café also has its share of cosmopolitan visitors and different languages, locals and migrants, who share the smoky atmosphere inside and the products of the coffee machine lovingly tended by Patricia, the tenant of the bar, who wishes she could receive love letters such as those Iqbal writes to his girlfriend in London. Everyone's fears and aspirations seem to find a shelter in this place, albeit some of them are laid openly on the table, while others remain hidden. There is Adolfo, who is separated from his children; Manuel, who sleeps 'in the cemetery', and his grandson, also called Manuel, who was adopted and is convinced his late mother has turned into a superhero; Filomena, the school cleaner who loves handing out sweets to the children and whose son is a UN peacekeeper; Paco and the taxi driver, who are constantly at each other's throats; Mohamed from Damascus in Syria, who runs a kebab restaurant and whose sister, Ghada, dreams of setting foot on the moon and licking it to see if it really tastes of goat's cheese; the tunic woman who turns up several times each day in the hope of receiving a phone call from her two nephews, economic migrants trying to reach Spain from Mt Gurugu; and then there is Aysel, the Kurdish girl who tells her boyfriend, Darai, the legend of Layla and Majnun, a story Lord Byron once described as 'the Romeo and Juliet of the East', and who is trying to find out information about her boyfriend, who has since disappeared. The owners of the bar, Lola and Eusebio, live upstairs; Eusebio has broken his hip and is confined to home. They all have different stories that, like threads in a garment or electricity from a patched-up generator, come together in one place and illumine our lives. Butterfly Wings is a patchwork quilt of shared humanity that emphasizes the kindness in people, understanding above conflict, in a world where local is global and our interdependence is clear to see.
Publication Date: 05 November 2020 / Language: English / Paperback: 172 pages / Dimensions: 203 x 133 mm / Price: £8.99 / €11.99 / $14.99
Amazon.com / Amazon.co.uk / Amazon.es / Barnes & Noble / Book Depository
The writing achieves a fine balance between succinct, engaging storytelling within which powerful themes are explored. The structure enables each character to be developed while plot threads progress and add to the underlying tension. The final scenes include aspects that are horrifying alongside those that are uplifting. The café is a microcosm of multicultural Europe, with all the hopes and prejudices its people propagate and endure.