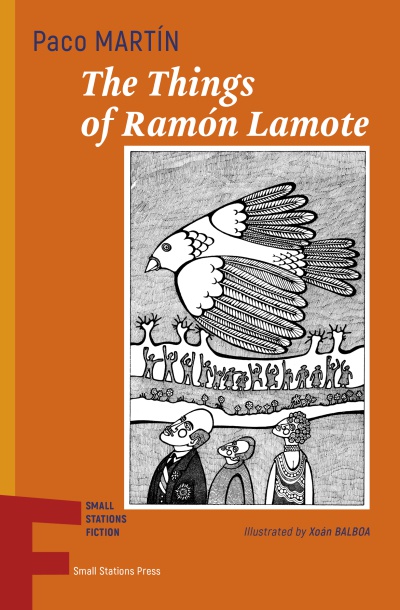 ISBN: 978-954-384-000-7
THE THINGS OF RAMÓN LAMOTE
by
Martín, Paco
Ramón Lamote, a living representation of the city he inhabits, aged sixty-one, gives private lessons in a local dialect, Terra Chá, and augments his income by taking on commissions to draw dreams. He is a keen observer of the life that goes on around him, unfailingly polite and ever willing to lend a helping hand. On a visit to a large important house in the city centre, he comes across a book that warns of the imminent arrival of a dragon-like creature called a Noticer, which awakens every 696 years, and he hurries to inform the Lord Mayor (though getting in to see him requires all his ingenuity). On another occasion, a fat woman is blocking the stairs, and Ramón Lamote is unable to find a way past her to make it to his lesson on time. He is invited to give a lecture on a kind of domestic animal and chooses the Endomodelph, an egg-laying mammal that sings and whistles through its behind. An enormous pipe appears one day in front of his house, which seems to serve no purpose until the local children come up with a use for it, which quickly catches on. After his lessons, the teacher and drawer of dreams likes to visit the local railway station and to play at guessing people's destinations. And in July he places an advertisement in the newspaper for the first ever Cloud Race, with marmolubles for prizes, an idea that draws the Lord Mayor's attention and soon has everybody talking about it. In The Things of Ramón Lamote, a modern classic of Galician literature and one of the first works in Galician to win the Spanish National Book Award, we are invited to witness the sublime and ordinary, the comic and absurd features of life in a provincial city.
Publication Date: 11 November 2019 / Language: English / Paperback: 112 pages (contains 11 black & white illustrations) / Dimensions: 203 x 133 mm / Price: £7.99 / €10.99 / $13.99
Amazon.com / Amazon.co.uk / Amazon.es / Barnes & Noble / Book Depository
These taut and charming stories follow the adventures of the title character as he makes his way around the city, engaging in conversations with a broad swath of society. Martín's book moves from the absurdist (Lamote is trapped in an awkward conversation for a day) to the fantastical (Lamote encounters a series of strange creatures), but never loses its deadpan perspective on the world.