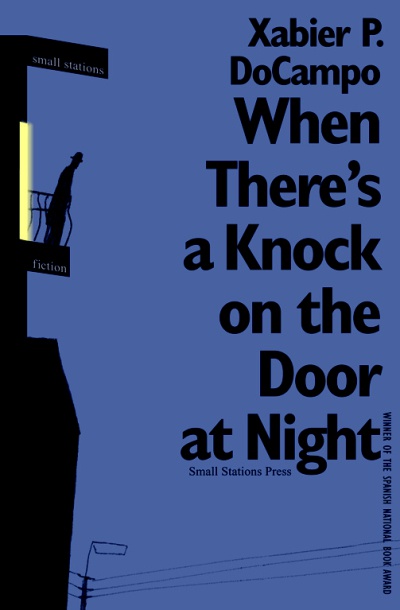 ISBN: 978-954-384-087-8
WHEN THERE'S A KNOCK ON THE DOOR AT NIGHT
by
DoCampo, Xabier P.
The four stories in When There's a Knock on the Door at Night are made from materials that have entered into the author's ear and which he has made his own. On the surface, they may appear to be frightening, but they are only frightening until we open ourselves to them. They showcase the best of Galician storytelling in which events are told first-hand or related by someone who knows them and elements of the everyday intersect, criss-cross, with elements of the supernatural. Often the scene is a storm in the dark during which the traveller is forced to seek shelter for the night in a house where the story is told to him or he experiences the events himself. In 'The Traveller's Mirror', a man on his way to reclaim his parents' estate is caught in a storm and attracted by the light of a forge, which he deduces is not a ghost because it remains still. On entering the blacksmith's house, he is struck by the similarity in their appearance – their faces are identical except for one detail. In 'The Oven Man', an old woman in the village constantly plays tricks on or spreads rumours about her neighbours, reprehensible behaviour that leads three men to set out one night to teach her a lesson that goes badly wrong. In 'The She-Wolf', a dandy who has never done a proper day's work in his life and who devotes himself to hunting and the pursuit of pleasure fails to fulfil a promise he has made, thereby provoking the injured party's fury and bringing down unfortunate consequences for all concerned. And in 'Happy Death Day', a man receives cards, letters and other gifts in celebration not of the day he was born, but of the day he will die. He does everything in his power to escape this destiny before seemingly accepting his fate and succumbing to the inevitable. When There's a Knock on the Door at Night is a modern classic of Galician literature and received the Spanish National Book Award in 1995.
Publication Date: 12 July 2018 / Language: English / Paperback: 86 pages / Dimensions: 203 x 133 mm / Price: £7.99 / €10.99 / $12.99
Amazon.com / Amazon.co.uk / Amazon.es / Barnes & Noble / Book Depository
Having already received the Spanish National Book Award in 1995, these four short stories simply shimmer beneath the residue of understatement – which is to say they beguile and penetrate in equal measure.