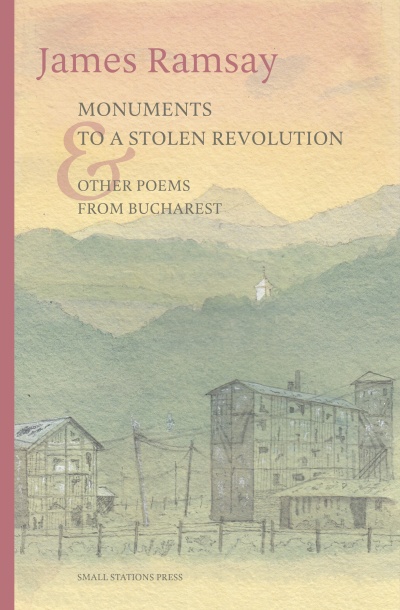 ISBN: 978-954-384-130-1
MONUMENTS TO A STOLEN REVOLUTION & OTHER POEMS FROM BUCHAREST
by
Ramsay, James
The poems in this book are 'verbal snapshots' from when the author lived in Bucharest, Romania, with his family and served as Anglican chaplain in Bucharest and Sofia between 2002 and 2005. Romania has applied to join the EU following the revolution of 1989, which saw the overthrow of the Communist dictator Nicolae Ceauşescu and the start of transition to a market economy. Taxis are frighteningly cheap, the currency, the Leu, is about to be revalued, while Ceauşescu's demolition of old Bucharest is being compounded by capitalist developers. Change waits for no man, people must adapt, from the women selling fresh garden produce in the street to the lady who goes door to door, selling cream-rich milk from her six cows. With impish humour and detailed observation, Ramsay records his impressions of life in two Eastern European capitals, Bucharest and Sofia, to reveal a world of political change and vibrant culture. The poems are imaginatively illustrated by the author's wife, artist Celia Ward.
James Ramsay is an Anglican priest living near the north Norfolk coast, where it is still possible to see the stars. While in full-time ministry he served in north Buckinghamshire, Oxford, Bucharest/Sofia, and East London. Celia Ward works from a studio in her walled garden, which is much appreciated by her husband when he is not looking at the stars. A painter, muralist, textile artist, and book designer, she also set up an arts centre in Bucharest and founded East London Textile Arts.
Publication Date: 22 November 2022 / Language: English / Paperback: 128 pages (contains 18 black-and-white illustrations) / Dimensions: 216 x 140 mm / Price: £8.99 / €11.99 / $13.99
Amazon.com / Amazon.co.uk / Amazon.es / Barnes & Noble / Book Depository
James Ramsay's poems are "verbal snapshots" from a fluid frontier as a Communist past was hijacked by a capitalist mirage. Telling details are translated through personal reactions, fusing faithful observations and deep sympathy for those stranded, like decaying landmarks, amid poverty and lingering corruption. This album of "verbal snapshots", illustrated by his wife, Celia Ward, is a fluent and compassionate collection.