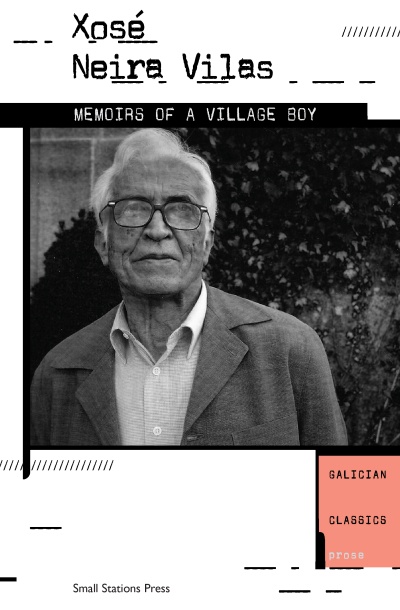 ISBN: 978-954-384-118-9
MEMOIRS OF A VILLAGE BOY
by
Neira Vilas, Xosé
There are three bestsellers of Galician literature: The Carpenter's Pencil by Manuel Rivas, a love story set in the Spanish Civil War; Winter Letters by Agustín Fernández Paz, about a man who decides to find out if a haunted house is really haunted (this title is also available from Small Stations Press); and perhaps most famously of all Memoirs of a Village Boy by Xosé Neira Vilas. This book, according to Wikipedia, is the most published work of Galician literature and has sold 700,000 copies in the Galician language. Now this work is being made available in an English translation by John Rutherford, founder of the Centre for Galician Studies at Oxford University and translator of Don Quixote and La Regenta for Penguin Classics. The book is a diary kept by Balbino, a village boy, 'in other words a nobody'. In the first chapter, he describes the village as 'a mixture of mud and smoke, where the dogs howl and the people die "when God sees fit"'. He would like to see the world, to go over seas and lands he doesn't know. He was born and brought up in the village, but now it feels small, cramped, as if he was living in a beehive. Behind the detailed description of village life, there is a fierce indictment of the iniquities of Galicia's feudal system, which is remarkable in a book first published in 1961, at the height of Franco's rule. Memoirs of a Village Boy paints a picture of the hardships and hard-won joys of life in a Galician village in the middle of the twentieth century, a life that was once common, but is now distant from our technology-dominated lives. It is a book to relish as one is transported by the richness of the language to another place and time.
Publication Date: 20 December 2021 / Language: English / Paperback: 98 pages (contains 4 black-and-white illustrations) / Dimensions: 216 x 140 mm / Price: £8.99 / €12.99 / $14.99
Amazon.com / Amazon.co.uk / Amazon.es / Barnes & Noble / Book Depository
With clipped language, reflecting the boy's thoughts, and gaining power from its simplicity, this is an emotionally engaging novel that invokes our sense of justice, our own memories of youth and our passion for life. It is also a manifesto for inquisitive youth, and will appeal now in difficult but very different times. A truly memorable read.
The Spanish Riveter (pages 208-9)